OEM Service | Valve Actuator Manufacturing

What is OEM service?
OEM stands for "original equipment manufacturer," which refers to a company producing products and units that may be marketed by another company. OEM services also involve customized designs.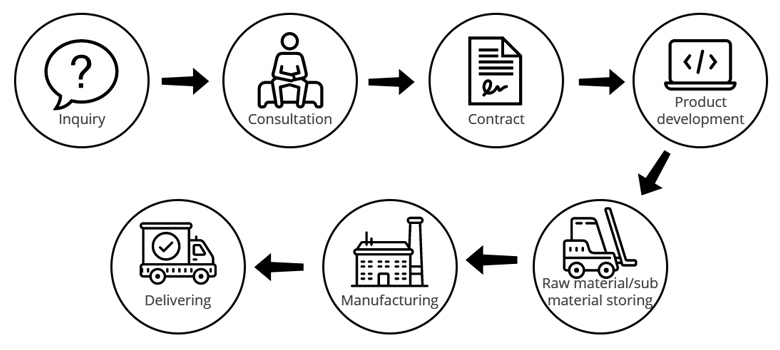 High efficiency and professionalism

Outsourcing improves your working efficiency. With professional OEMs, you can concentrate on your own activities by outsourcing the manufacturing of some products or units to other companies. It's important to specify products that will meet your requirements and to partner with a supplier who understands your industry. As an OEM, direct seller, and manufacturer, UG ensures any modifications to products are warranted. If you can't find the exact product that matches your requirements, UG also offers customized designs.
Cost saving

Outsourcing saves on a company's costs, including operating costs and labor costs. If you manufacture all products and units in-house, the expenses can be very high. Also, the lack of people with expertise is a problem and recruitment incurs additional expenses. Outsourcing makes you free from all these problems.
OEM-to-Distributor Process
What is OEM-to-Distributor Process?
OEMs work with distributors to take their products to market. Distributors buy products from OEMs, store them and sell them to customers in their markets.
How does the OEM-to-Distributor Process work?

Strategy
Make a distribution strategy that will enable you to market products effectively in selected territories.

Territory
Developing a network of distributors enables your company to operate a sales, marketing, and customer service operation in territories that you could not cover with your own resources.

Selection
Analyze the range of products that could compete with yours. If distributors are currently marketing products that compete with your range, you can reach an agreement with your distributor.

Agreement
The relationship between OEMs and distributors should base on a formal agreement.

Development
An effective OEM-to-distributor process requires high levels of collaboration and support. OEMs and distributors can share resources and help each other.

Customer Relationship
First, you need to decide who has the primary relationship with customers -- you or your distributors. You may, for example, provide technical support and other services from your own resources.
Leave your message and get feedback in 24h.